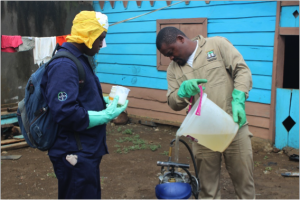 Preparing the pump before spraying
Other partners such as the London School of Hygiene and Tropical Medicine, Liverpool School of Tropical Medicine, Innovative Vector Control Consortium, and Texas A&M University were brought on to provide technical assistance. The BIMEP project works to reduce malaria cases and deaths, especially among children under five, and ultimately aims to eliminate malaria from Bioko Island. To achieve this goal, MCDI and other partners established a comprehensive mosquito control program based on spraying the interior walls of houses at the community level, together with mass distribution of bed nets and antimalarial medicines, promotion of early, effective diagnosis and treatment, epidemiological surveillance, monitoring of mosquito populations, and the training of government health workers.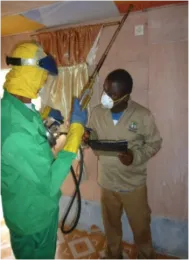 Sprayer in action receiving an evaluation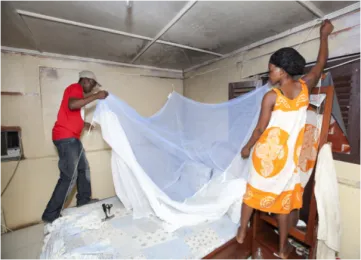 Hanging a bed net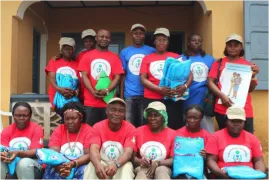 Community leaders receiving training on malaria prevention and control measures

Conducting class on malaria transmission and control at a local school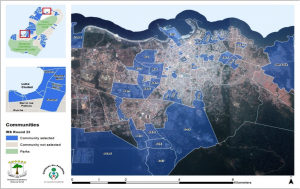 Use of maps to plan and implement
malaria control activities
The BIMEP also engages in communication and social mobilization, rigorous monitoring and evaluation of all project activities with annual surveys and geospatial data to track the impact of its activities implemented on Bioko Island.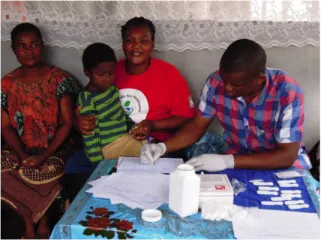 Annual Survey: registration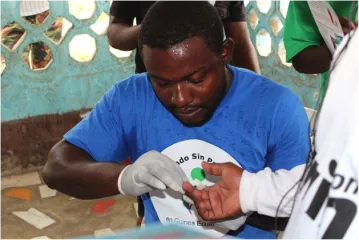 Annual survey: testing for malaria
As a result of its sustained malaria elimination interventions on the island over 14 years, the BIMEP has achieved:
a 76% reduction in the malaria parasite prevalence (from 45% in 2004 to 10.9% in 2018).
a reduction in excess of 63% in all-cause mortality among children under 5 years old (largely attributed to malaria interventions).
a 99% reduction in the rate of transmission of the parasite by the vectors (from more than 1,000 infected bites per person per year in 2004 to less than 10 potentially infected bites per person per year in 2018)
Elimination of one of the three main malaria vector species (An. funestus)
77% reduction in anemia and 68% reduction in parasite prevalence in pregnant women
Improved access to diagnostic services and malaria treatments

These outcomes have been achieved by designing innovative, science-based approaches that have served as a model for malaria control activities throughout sub-Saharan Africa. For example, the BIMEP's targeted indoor residual spraying efforts have informed efforts by the US President's Malaria Initiative throughout Africa.
To accelerate progress towards eliminating malaria on Bioko Island through cutting-edge innovations, a new component called the Equatorial Guinea Malaria Vaccine Initiative (EGMVI) has been added. Along with the Government of Equatorial Guinea, Marathon Oil Corporation, and Noble Energy, Atlantic Methanol and other BIMEP partners have invested U.S. $41 million for five trials of a highly promising, experimental vaccine to block malaria transmission in humans and mosquitos.
Clinical trials of the PfSPZ Vaccine® developed by the U.S. biotechnology company Sanaria, Inc., are currently underway through an international implementation team composed of the Equatoguinean Ministry of Health and Social Welfare, vaccine developer Sanaria Inc., the Ifakara Health Institute of Tanzania, the Swiss Tropical and Public Health Institute, and MCDI.
After the conclusion of clinical field trials, the BIMEP aims to implement a mass vaccination campaign in tandem with current malaria control activities, in order to demonstrate that it is possible to eliminate malaria on Bioko Island.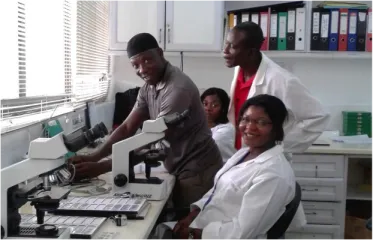 Lab technicians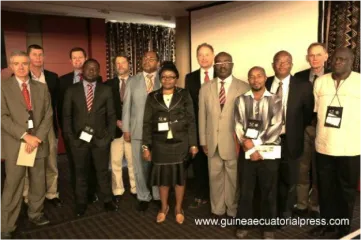 Members of the BIMEP and partners at international malaria conference
BIMEP Awarded 2019 P3 Impact & Audience Choice Awards at Concordia Summit
The P3 Impact Award is presented each year at the Concordia Summit in New York, NY, to recognize and honor leading public-private partnerships (P3s) that improve communities and the world. We are proud to report that the Bioko Island Malaria Elimination Project (BIMEP) was the winner selected from among five finalists for a 2019 P3 Impact Award. The award was created by nonprofit Concordia, the University of Virginia's Darden School Institute for Business and Society, and the U.S Department of State's Office of Global Partnerships. For more information: https://www.concordia.net/organization/bioko-island-malaria-elimination-program/